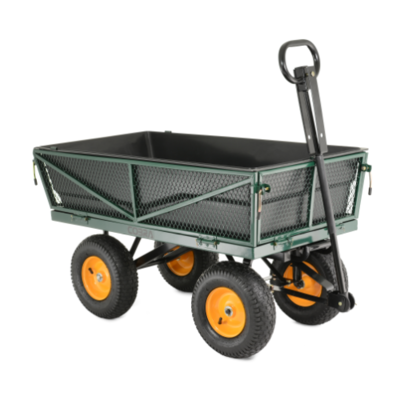 COBRA Cobra 300MP Multi-Purpose Garden Cart £139.99. Mowers Online prices include VAT and Delivery to most areas on the GB mainland. Mowers Online prides themselves for the best price possible for COBRAproducts, and also delivery service. Most deliveries are executed the next business day to mainland Great Britain. There are a few exception for instance some rural areas in Scotland.
Cobra 300MP Multi-Purpose Garden Cart details
Brand Name COBRA
Found at Mowers Online who will pay us a commission on items purchased through this webpage.
Category COBRA Lawn Care / Garden Care > Garden Tractor > Lawn Tractor Accessories.
The Cobra 300MP hand cart is a very useful piece of equipment to use around the garden. The multi-purpose cart can be pushed or towed using the large soft grip handle. This tipping cart has a 300kg capacity and the plastic inner body removed and the mesh sides dropped down for longer loads.